HR INNOVATION: Check Your Organisational PULSE

As you probably know by now, HONO has been acknowledged as the 'Promising Brand 2022' by Economic Times for our cutting-edge HR-tech Solutions, proven executional excellence and future-ready technology.
We at HONO keep a sharp focus on the objective central to our business – PEOPLE.
And so, we today bring to you a product innovation, which we are particularly proud of, and which has been designed in response to a whole library of HR pain-points, aiming to create something that is built on the power of AI, that can be used to check your organizational pulse with the simplicity and ease with which one checks the human pulse.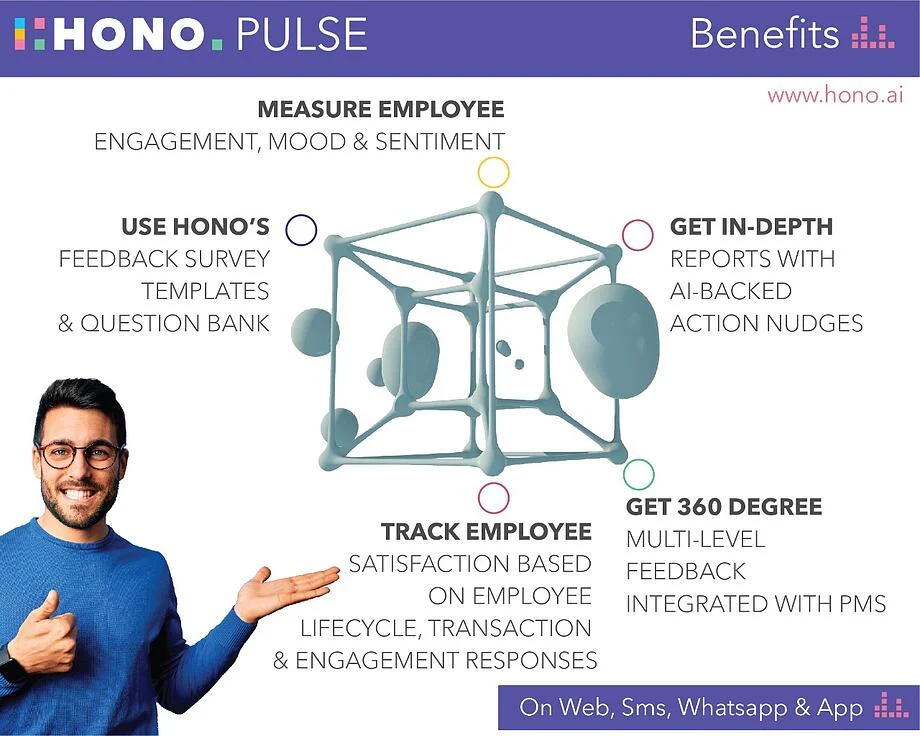 HONO PULSE, allows HR & businesses to:
- Measure Employee Engagement by Employee, Team, Department, Level & Location
- Measure Employee Mood & Sentiment anytime, anywhere
- Use HONO PULSE's feedback survey templates & question bank, that consider psychological validity and survey biases
- Create your own custom queries
- Get in-depth reports with AI-backed action nudges and AI-processed answers
- Track employee satisfaction based on Employee Lifecycle, Transaction & Engagement responses
- Get 360 Degree multi-level feedback integrated with a year-long continuous performance assessment
- Stay engaged over HONO PULSE, using the HONO chatbot over the web, SMS, WhatsApp & any other application
HONO PULSE is the easiest way for HR leaders to safeguard their workforce and protect their brand from traditional People challenges like:
- Low Engagement
- Low Morale & Attrition
- Employee Resistance to Change
- Lack of Knowledge About Team Sentiment
- Inability to quantify & no related Analytics
And from People challenges unique to millennial workforces like:
- Moonlighting & Career Hoarding
- Silent Quitting
- Cultural Disconnect due to Remote/Hybrid Working
- Lack of Brand Loyalty
Evidently, the old carrot & Stick methods don't produce desired results anymore.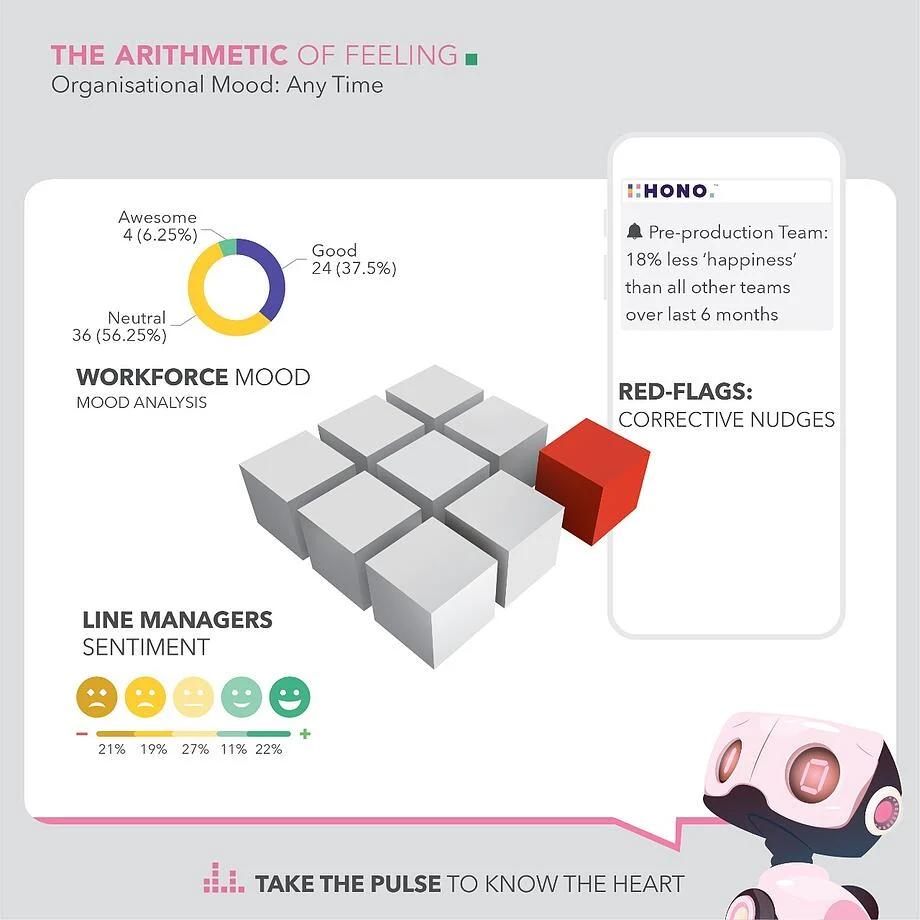 So HONO PULSE steps in where the question about how a company or employer can track employee sentiment across their tenure without coming across as 'big brother watching'.
We're glad to say that HONO PULSE does it quite effectively with robust features like:
- Feedback Survey Librarywith hundreds of validated questions & templates
- Customization Optionfor question, survey & templates
- Modular platform, easily integrated with existing systems
- Deployed and accessible across web & app and supported by user-friendly chat-bot
- Real-time response& reporting
- Mood, Sentiment & Response tracking by personnel, team, department, level & location
- Integrate-able with PMS (Performance Management Systems) for 360-degree feedback for assessments
- Reports, analysis & processing by AI-backed self-learning systems
- Actionable nudges on critical reports
HDFC BANK, Aakash Byju's, DB Corp Ltd., Orient Bell Ltd., Talent Edge Group, Welspun Group, Al Fardan Exchange Dubai, Mumbai International Airport, Teleperformance Global Services are just some of the forward-looking brands that are already benefitting from the value PULSE brings. They are a testimony to the power of the platform and its success.
If you'd like a FREE DEMO of the product, or know more about it, we'd be more than happy to schedule a call at your convenience. Do reach out.
SUBSCRIBE NEWSLETTER
For HR innovation updates
Download free HR Case Studies
Senior Industry & Consulting Leader, Rajesh Padmanabhan Appointed As Chairman, HONO
Senior Industry & Consulting Leader, Rajesh Padmanabhan Appointed As Chairman, HONO
Senior Industry & Consulting Leader, Rajesh Padmanabhan Appointed As Chairman, HONO